The Venue of CPS&IoT'2023 is Hotel Budva*****  in Budva, Montenegro.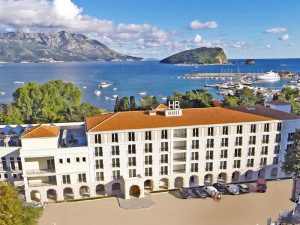 As for accommodation, we advise Hotel Budva***** and Hotel Slovenska Plaza****, but there are many other possibilities.
For reservation in Hotel Budva and obtaining special conference rates please contact the hotel directly at: +382 (0) 69 184 058 and sales@hotelbudva.me
For reservation in Hotel Slovenska plaza and obtaining special conference rates please contact the hotel directly at: brsales@t-com.me , slplaza@t-com.me , +382 33 451-428 , +38268866048.
 For students Hotel BIP can be a good, cheap choice, https://www.hotelbip.me/
All hotels are in 1 km diameter from Conference Venue.
For reservation use a reference "MECO2023".
Budva is a 3500 years old town located at the Adriatic coast of Montenegro. It is a popular tourist destination, the favorite sport of regional tourists for it's rich and diverse attractions which earned her the title of the "Metropolitan of Montenegrin tourism." With its charming Old Town, beautiful natural environment, 35 clean and sandy beaches,  vivid night bars and restaurants and it's proximity to many famous tourist attractions such as Kotor, Boka Kotorska, Sveti Stefan, Dubrovnik and several national parks, it is proven to be an excellent place to hold a summer school and  a conference in a relaxed and friendly atmosphere.
Budva is very well accessible by plane. The Podgorica Airport is about 65 km from Budva and it receives regular flights from Vienna, Paris, Rome, Zürich, Frankfurt, Warsaw, Ljubljana, Belgrade, and Instanbul, while Tivat Airport (about 20km from Budva) and Dubrovnik Airport (65km from Budva) are very frequent vacation and charter flight destinations during the spring and summer time.
The participation is also possible ONLINE (Covid-19 measures)
TAXI TRANSPORTATION:
For Taxi from and to Airport of Podgorica contact our cooperative Taxi company via royaltaxipg@gmail.com or in urgent cases call the number +38267009704 (Aco).